About Me

I'm Paul Bissex. I build web applications using open source software, especially Django. Started my career doing graphic design for newspapers and magazines in the '90s. Then wrote tech commentary and reviews for Wired, Salon, Chicago Tribune, and others you never heard of. Then I built operations software at a photography school. Then I helped big media serve 40 million pages a day. Then I worked on a translation services API doing millions of dollars of business. Now I'm building the core platform of a global startup accelerator. Feel free to email me.
Book
I co-wrote "Python Web Development with Django". It was the first book to cover the long-awaited Django 1.0. Published by Addison-Wesley and still in print!
Colophon
Built using Django, served with gunicorn and nginx. The database is SQLite. Hosted on a FreeBSD VPS at Johncompanies.com. Comment-spam protection by Akismet.
Elsewhere
Pile o'Tags
Stuff I Use
Bitbucket, Debian Linux, Django, Emacs, FreeBSD, Git, jQuery, LaunchBar, macOS, Markdown, Mercurial, Python, S3, SQLite, Sublime Text, xmonad
Spam Report
At least 237143 pieces of comment spam killed since 2008, mostly via Akismet.
Warning: this is a long post about... a text editor.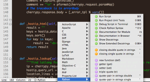 I'm very late to the TextMate party. Like many other people, I heard the buzz when it came out last fall, checked it out, and went away interested but unimpressed.
At the time I knew that BBEdit's long stint as my primary text editor was coming to a close. For its replacement I wanted an app that felt cleaner; was Cocoa, not Carbon; didn't have a dozen years of accumulated cruft in the menus; and didn't have language-specific features that felt tacked-on. For shell tasks I continued to use and enjoy Emacs, but I was pining for a great native editor on the desktop.
Ironically, for almost a year after that I primarily relied on TextWrangler; it really is quite a good little free editor, but after a while I couldn't ignore its shortcomings and I was still resolved not to go back to BBEdit. I tried all of the other appealing Cocoa options (SubEthaEdit, Smultron, skEdit, Xcode) with no lasting joy.
A couple weeks ago I decided to take another look at TextMate; within a few days I bought it, and I'm fairly sure I'm in for the long haul.
There are lots of swell things about TextMate, but the killer feature is the "bundles" system for handling different languages and types of text. Many people misunderstand this to be just about syntax coloring; far from it. A language bundle can contain templates, "snippets" (mini-templates with smart placeholders that you can tab through), commands (real commands, i.e. shell integration), macros, and more.
If you're a coder who always writes Java or always writes HTML, you might not think TextMate is the best. But if you're like me, it's a godsend. Last week I used TextMate to edit Python, PHP, HTML, Django templates, Markdown, plist files, and plain text. (I'm writing this post in TextMate, naturally, and using the built-in Markdown preview.)
TextMate is an app that invites hacking, in the best sense of the term. There are dozens of bundles, including boutique stuff like Haskell, Matlab, and R -- mostly due to user involvement.
The bundles organize features in a discoverable way. As I work with TextMate I have the same experience over and over: it occurs to me to want something (an HTML tidying command, or an email quoting macro), I look for it, and I find it. This discoverability is where TextMate's real power comes from; the huge number of language-specific features could completely destroy the application if they were organized poorly.
(I haven't felt the need for documentation very often while using TextMate, which is lucky for me. It can be difficult to quickly find information about its advanced features. There's the built-in help, the wiki, the book, and the blog, not to mention the mailing list. They're all helpful, but the information is too scattered. Some consolidation would be good!)
Finally, I see that TextMate's "snippets" system has now been ported/cloned to both vim and emacs. Wow. I think that might be one of the signs of the text editing apocalypse.
0 comments pending approval
Comments are closed for this post. But I welcome questions/comments via email or Twitter.