About Me

I'm Paul Bissex. I build web applications using open source software, especially Django. Started my career doing graphic design for newspapers and magazines in the '90s. Then wrote tech commentary and reviews for Wired, Salon, Chicago Tribune, and others you never heard of. Then I built operations software at a photography school. Then I helped big media serve 40 million pages a day. Then I worked on a translation services API doing millions of dollars of business. Now I'm building the core platform of a global startup accelerator. Feel free to email me.
Book
I co-wrote "Python Web Development with Django". It was the first book to cover the long-awaited Django 1.0. Published by Addison-Wesley and still in print!
Colophon
Built using Django, served with gunicorn and nginx. The database is SQLite. Hosted on a FreeBSD VPS at Johncompanies.com. Comment-spam protection by Akismet.
Elsewhere
Pile o'Tags
Stuff I Use
Bitbucket, Debian Linux, Django, Emacs, FreeBSD, Git, jQuery, LaunchBar, macOS, Markdown, Mercurial, Python, S3, SQLite, Sublime Text, xmonad
Spam Report
At least 237138 pieces of comment spam killed since 2008, mostly via Akismet.
This week is so busy that I don't have time for a longer post, but I wanted to mention DjangoKit (attentive readers may have already spotted it in the sidebar), an OS X application wrapper for Django projects. Tom Insam went and did something that I've had on my "someday" list for a long time. It's very much a 0.0.1 project right now, but I think it has great potential as an application testbed and as a platform for hybrid apps.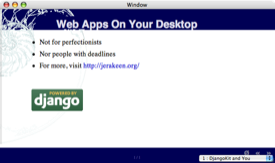 I pulled out an unfinished Django app of mine that lets you build and present S5 slideshows, and shoehorned it into the DjangoKit wrapper. It works! I can't ask for more at this point. Looking forward to having more time to play.
0 comments pending approval
Comments are closed for this post. But I welcome questions/comments via email or Twitter.
Search
Recent Posts
How to port 100,000 lines of Python 2 to Python 3
261-character git one-liner of the day
How things get better after you screw up at work
Recent Comments
Jacinto
Neo4J and Graph Databases
968 days ago
ANOTHER SPAMMER WITH BROKEN SOFTWARE
How to install the open source application Darktable on OS X
1973 days ago
SPAMMER WHOSE COMMENT GENERATOR IS BROKEN
How to install the open source application Darktable on OS X
1984 days ago
Alfred Nutile
Switching from OS X to Ubuntu
2025 days ago
Spammer
The story of dpaste.com 2.0
2203 days ago
Feeds

RSS feed

Atom feed
Older Posts
Credits
Copyright 2020
by Paul Bissex
and E-Scribe New Media