About Me

I'm Paul Bissex. I build web applications using open source software, especially Django. Started my career doing graphic design for newspapers and magazines in the '90s. Then wrote tech commentary and reviews for Wired, Salon, Chicago Tribune, and others you never heard of. Then I built operations software at a photography school. Then I helped big media serve 40 million pages a day. Then I worked on a translation services API doing millions of dollars of business. Now I'm building the core platform of a global startup accelerator. Feel free to email me.
Book
I co-wrote "Python Web Development with Django". It was the first book to cover the long-awaited Django 1.0. Published by Addison-Wesley and still in print!
Colophon
Built using Django, served with gunicorn and nginx. The database is SQLite. Hosted on a FreeBSD VPS at Johncompanies.com. Comment-spam protection by Akismet.
Elsewhere
Pile o'Tags
Stuff I Use
Bitbucket, Debian Linux, Django, Emacs, FreeBSD, Git, jQuery, LaunchBar, macOS, Markdown, Mercurial, Python, S3, SQLite, Sublime Text, xmonad
Spam Report
At least 237138 pieces of comment spam killed since 2008, mostly via Akismet.
I'm here in the great city of Portland, Oregon for the 2007 O'Reilly Open Source Convention, or OSCON. Looks like it's going to be a fun week.
The first two days are for "tutorials", half-day sessions on specific practical topics. Though you are officially required to sign up for your sessions in advance, sometimes you just need to float. There's so much going on it can be hard to choose to stay put. Plus you want to make sure you cruise the upper lobby every hour or two in case they put out a fresh batch of cookies. Also, frankly, none of the sessions I sampled in the morning really grabbed me. Not everybody who has written a book is an engaging speaker, alas. My work as a teacher makes me both more understanding and more demanding of presenters.
In the afternoon I headed to the Django Master Class tutorial led by Jacob Kaplan-Moss, Simon Willison, and Jeremy Dunck. This was great. These guys were well prepared and packed a lot of material into three hours: unit testing, middleware tricks, signals, AJAX-based form validation, template tag patterns, custom field types, OpenID, deployment, and GIS. They also brought some schwag, so I now have a Django t-shirt with a racy slogan. I would have liked to see a fuller room -- it's possible the "Master Class" label was intimidating.
All that Django talk got me fired up to resume my stalled-out blog conversion. So, I'm happy to say that this blog is now being administered with a Django back-end, and I have a mostly-functional front-end in testing. My goal is to make it live this week, even if it's not feature-complete -- having it in public will motivate me.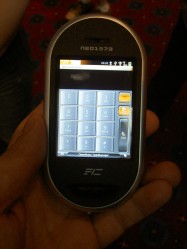 It's a common observation that one of the best tracks at OSCON is the "hallway track". If you stand around and talk to people long enough, you will inevitably encounter someone who 1) made something that you use 2) uses something that you made or 3) is making something that you'd like to use. That third mode was in full effect at the schedule board at the end of the day, when I saw a man writing something about the OpenMoko open source phone platform. "Openmoko!" I said, "Cool!" He then handed me an actual Openmoko Neo1973 phone (pictured). Wow. There are some little niceties it still needs -- for example, it can't actually make phone calls yet -- but it was great to see it running. I don't know what the pixel density of the screen is, but I'd guess it's over 200ppi (cf. my Palm TX which is superfine at about 150ppi).
At the same schedule board I also saw this mysterious announcement from Sun. I'll have to check that out.
0 comments pending approval
Comments are closed for this post. But I welcome questions/comments via email or Twitter.
Search
Recent Posts
How to port 100,000 lines of Python 2 to Python 3
261-character git one-liner of the day
How things get better after you screw up at work
Recent Comments
Jacinto
Neo4J and Graph Databases
1001 days ago
ANOTHER SPAMMER WITH BROKEN SOFTWARE
How to install the open source application Darktable on OS X
2006 days ago
SPAMMER WHOSE COMMENT GENERATOR IS BROKEN
How to install the open source application Darktable on OS X
2017 days ago
Alfred Nutile
Switching from OS X to Ubuntu
2058 days ago
Spammer
The story of dpaste.com 2.0
2236 days ago
Feeds

RSS feed

Atom feed
Older Posts
Credits
Copyright 2020
by Paul Bissex
and E-Scribe New Media