About Me

I'm Paul Bissex. I build web applications using open source software, especially Django. Started my career doing graphic design for newspapers and magazines in the '90s. Then wrote tech commentary and reviews for Wired, Salon, Chicago Tribune, and others you never heard of. Then I built operations software at a photography school. Then I helped big media serve 40 million pages a day. Then I worked on a translation services API doing millions of dollars of business. Now I'm building the core platform of a global startup accelerator. Feel free to email me.
Book
I co-wrote "Python Web Development with Django". It was the first book to cover the long-awaited Django 1.0. Published by Addison-Wesley and still in print!
Colophon
Built using Django, served with gunicorn and nginx. The database is SQLite. Hosted on a FreeBSD VPS at Johncompanies.com. Comment-spam protection by Akismet.
Elsewhere
Pile o'Tags
Stuff I Use
Bitbucket, Debian Linux, Django, Emacs, FreeBSD, Git, jQuery, LaunchBar, macOS, Markdown, Mercurial, Python, S3, SQLite, Sublime Text, xmonad
Spam Report
At least 237138 pieces of comment spam killed since 2008, mostly via Akismet.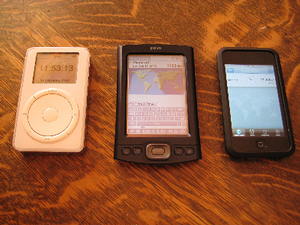 I bought my Palm TX in December 2005, a few months after it came out. In my blog post where I weighed the pros and cons of the device and the platform, I grumbled that "Palm has successfully crushed any optimism I might have had for fixes appearing in the form of a free, downloadable OS upgrade." My grumpy intuition was right -- in fact, the Palm platform has pretty much just stagnated since that time, punctuated with spastic feints toward Linux that you can read about elsewhere or in my old Palm-related posts.
The digitizer on the TX long ago went south, and I've been looking around for a good replacement. This is tough because PDAs aren't a very lively product category these days -- most people use their phones for that stuff. After a lot of obsessive research I boiled my choice down to two very different devices: the iPod touch and the Nokia N810.
I chose the iPod in the end because I decided that my priority was to use the thing. In recent weeks I had taken to listening to audio on the old first-generation iPod from my "museum" and really appreciated its elegance and functionality -- not to mention the way Apple was still supporting it seven years after its debut.
So, as alluring as it may be to think about buying the Linux-powered N810, writing my own custom GTK apps in Python on a computer the size of a candy bar that has wifi, bluetooth, a camera, and a butane brazing torch, it wouldn't be a very wise use of my time and energy these days. So in a betrayal of my open source DIY ethics I went for the device that prioritizes usability over hackability.
Summary: The iPod touch is excellent. I love it.
One nice thing that it inherits from the Palm is that it is fairly successful at making you forget about files, folders, and documents. I like that. It kills me when I see people re-creating our fussy, crufty desktop environments in miniature on handheld devices.
People who know how hard I can be on my hardware will be happy to know that the young man at the Apple Store was nice enough to apply my screen protector and cover, so the thing hasn't been exposed to the elements or my weird corrosive body chemistry.
It's not perfect. I'd like a to-do list app, an outliner, copy and paste, an offline document reader, support for Ogg Vorbis and other open media formats, a portable folding keyboard. And a shell, dammit.
I gather that a lot of the above can be gotten by "jailbreaking" the device and fishing around for third-party apps, but since I've had it less than 48 hours I'm not quite ready to risk bricking it. I am optimistic (perhaps foolishly) that Uncle Steve is going to make good on his promise of an SDK this month. Even if I don't have time to play with it right away I trust it will yield a lot of cool stuff.
0 comments pending approval
Comments are closed for this post. But I welcome questions/comments via email or Twitter.
Search
Recent Posts
How to port 100,000 lines of Python 2 to Python 3
261-character git one-liner of the day
How things get better after you screw up at work
Recent Comments
Jacinto
Neo4J and Graph Databases
972 days ago
ANOTHER SPAMMER WITH BROKEN SOFTWARE
How to install the open source application Darktable on OS X
1977 days ago
SPAMMER WHOSE COMMENT GENERATOR IS BROKEN
How to install the open source application Darktable on OS X
1988 days ago
Alfred Nutile
Switching from OS X to Ubuntu
2029 days ago
Spammer
The story of dpaste.com 2.0
2207 days ago
Feeds

RSS feed

Atom feed
Older Posts
Credits
Copyright 2020
by Paul Bissex
and E-Scribe New Media