I'm here in the great city of Portland, Oregon for the 2007 O'Reilly Open Source Convention, or OSCON. Looks like it's going to be a fun week.
The first two days are for "tutorials", half-day sessions on specific practical topics. Though you are officially required to sign up for your sessions in advance, sometimes you just need to float. There's so much going on it can be hard to choose to stay put. Plus you want to make sure you cruise the upper lobby every hour or two in case they put out a fresh batch of cookies. Also, frankly, none of the sessions I sampled in the morning really grabbed me. Not everybody who has written a book is an engaging speaker, alas. My work as a teacher makes me both more understanding and more demanding of presenters.
In the afternoon I headed to the Django Master Class tutorial led by Jacob Kaplan-Moss, Simon Willison, and Jeremy Dunck. This was great. These guys were well prepared and packed a lot of material into three hours: unit testing, middleware tricks, signals, AJAX-based form validation, template tag patterns, custom field types, OpenID, deployment, and GIS. They also brought some schwag, so I now have a Django t-shirt with a racy slogan. I would have liked to see a fuller room – it's possible the "Master Class" label was intimidating.
All that Django talk got me fired up to resume my stalled-out blog conversion. So, I'm happy to say that this blog is now being administered with a Django back-end, and I have a mostly-functional front-end in testing. My goal is to make it live this week, even if it's not feature-complete – having it in public will motivate me.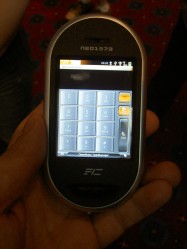 It's a common observation that one of the best tracks at OSCON is the "hallway track". If you stand around and talk to people long enough, you will inevitably encounter someone who 1) made something that you use 2) uses something that you made or 3) is making something that you'd like to use. That third mode was in full effect at the schedule board at the end of the day, when I saw a man writing something about the OpenMoko open source phone platform. "Openmoko!" I said, "Cool!" He then handed me an actual Openmoko Neo1973 phone (pictured). Wow. There are some little niceties it still needs – for example, it can't actually make phone calls yet – but it was great to see it running. I don't know what the pixel density of the screen is, but I'd guess it's over 200ppi (cf. my Palm TX which is superfine at about 150ppi).
At the same schedule board I also saw this mysterious announcement from Sun. I'll have to check that out.
---
David Krauth commented on Tue Jul 24 09:35:43 2007:
To be so lucky… Hope to hear more from you on your OSCON adventures.
Looks like you're on a roll the past month, what with Adrian presenting at Django.June and now the Django Master Class.
If you get the chance, be sure to check out the Lucky Lab Brewing Company while you're out there.